Services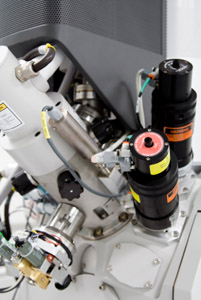 We specialise in microfabrication and nanoscale fabrication and currently offer specific domain expertise in process engineering and device analysis through use of class 100/1000 cleanroom facilities at the London Centre for Nanotechnology (LCN).
Nanotechnology Services UK Include:
Thin Film Deposition and Etching technologies including Reactive Ion Etching (RIE), Photolithography, E-beam lithography, Thermal Oxidation, Chemical Vapour Deposition (and related CVD), Physical Vapor Deposition, Atomic Layer Deposition (ALD), Molecular Beam Epitaxy (MBE), Focused Ion Beam (FIB), Scanning Electron Microscopy (SEM), Atomic Force Microscopy (AFM), Nano Imprint Lithography (NIL), Sputterring and Evaporation methods including thermal evaporation and ebeam evaporation.
We fabricate electronic devices in a range of materials including both inorganic and organic semiconductors. Our engineers are experienced in design and test of  next generation devices used in the plastic electronics industry including Organic Light Emitting Diodes  (OLED), organic solar Cells (OPV) and Organic Field Effect Transistors (OFET) or Thin Film Transistors (TFT). In addition we have experience in fabricating MEM's, NEM's, microfluidic devices, sensors and biosensors as well as a wide range of nanoscale metrology techniques including AFM imaging and SEM imaging.
For clients with intent to scale up their research we design and optimise processes through the product development phase to ensure that as prototypes progress they are optimised to readily scale up for medium/large scale production.
Contact us to discuss your requirements or email us your specifications to request a quote.
Email: stephen@smalltech.co.uk
Tel: +44 (0) 777 835 0980